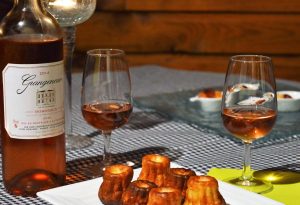 Black olives cannelés !
---
Perfect for an aperitif with Grangeneuve rosé!
For 4 people
6 black olives
Salt and pepper
1 egg
50g gruyère
30g butter
50g flour
20 cl of milk
---
Mix the flour with melted butter and beaten egg.
Pour the hot milk warmed in the microwave. Add the olives cut into small pieces, and then the cheese. Salt and pepper.
Chill one hour at least.
Pour into the cannelés molds.
Bake 15 minutes at 220 ° C and then following your oven, about 45 minutes at 180 ° C.
That's it !