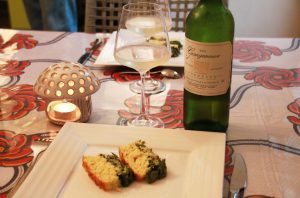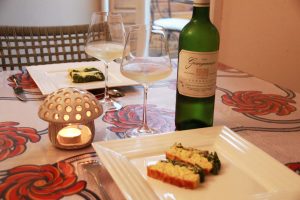 Cod and spinach terrine recipe
---
Sauvignon blanc Grangeneuve perfectly pairs with fish dishes and seafood!
Today we suggest it to you with a fish dish:
Ingredients for 6 people :
4 eggs
2 egg yolks
6 slices of frozen cod
200 g of frozen spinach
20 cl cream
salt pepper
bay leaf, thyme, shallot powder
1/2 culinary vegetable cube for broth
---
Thaw the fish fillets in hot water with herbs, salt and pepper.
Cook the spinach in a little water and in the broth for about twenty minutes. Then mix them.
Mix the fish with all the eggs, cream, seasoning (shallots, salt, pepper)
Divide the preparation 2. In one of them add the spinach.
In a cake pan, pour the preparation 100% fish and then the preparation spinach / fish.
Bake for 45 minutes at 210 ° C by placing the cake tin in another large pan filled with water.